Abesamis Dental Clinic | Dental Services in the Philippines
manila dentist
dental implants philippines
dental clinic manila
tooth extraction philippines
dentist in laguna
dental services in alabang
pediatric dentistry
With over 35 years of exposure to industrial health care, Abesamis Dental Clinic has designed its organization, facilities and operating procedures to suit the requirements of manufacturing companies...
A tooth with a cavity can be identified by black/blown lesions that may or may not lead to tooth sensitivity. Tooth decay is addressed by removing the portion of the tooth with a lesion and filling it with a restorative material. The type of restoration material used depends on the size, location, and other factors that are taken into consideration by the dentist.
Teeth Cleaning (Oral Prophylaxis)
Plaque which is composed of bacteria and other debris found in the mouth can lead to gingivitis which is usually exhibited by red, swollen, and painful gums which may be sensitive and bleed easily. Oral prophylaxis helps to address the symptoms caused gingivitis. This is done by scraping off plaque and tartar build-up and polishing teeth for a healthier, brighter smile.
X-ray and other Diagnostic Services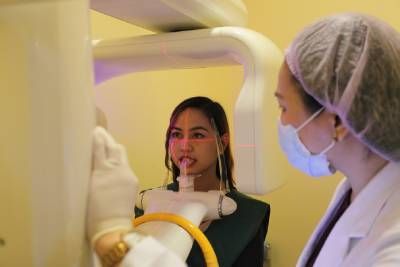 Abesamis Dental Clinic offers services such as digital Periapical and Panoramic X-rays to facilitate proper diagnosis and treatment planning. Our facility is also equipped to fabricate diagnostic materials such as X-rays, dental models and photos essential for orthodontic treatment planning.